Make sparkling wine in Kamloops! Ready in 5 weeks, each batch of Sparkling Wine makes 29 bottles. Perfect for celebrations, events, or even to enjoy as an every day bubbly!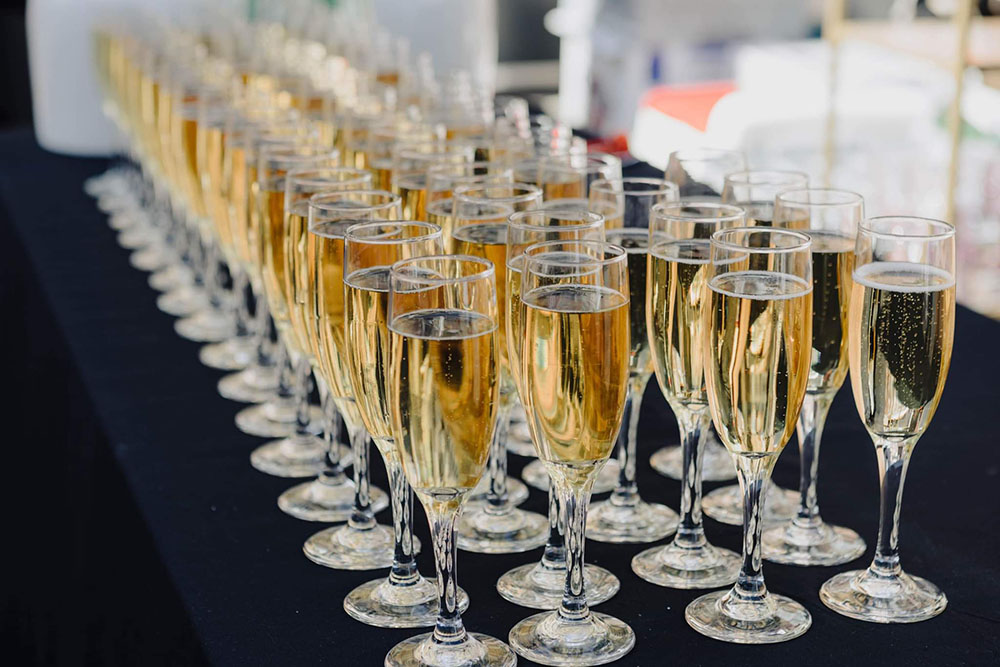 Herbaceous notes, peach and pineapple make for a crisp sparkling wine with juicy fruit intensity and bright acidity.
Varietal: Sauvignon Blanc | Region: Chile | Alcohol: 12.5% | Sweetness: 0 (Dry)
$175 for 29 bottles
Bright and fresh palate of green apple, melon, and lemon zest. Fruit-forward with crisp acidity.
Varietal: Pinot Grigio | Region: Italy | Alcohol: 12.5% | Sweetness: 0 (Dry)
$175 for 29 bottles
Floral notes of white peach, pineapple and lime.
Varietal: Riesling | Region: Washington | Alcohol: 12% | Sweetness: 1 (Off-Dry)
$175 for 29 bottles
Popular for its deliciously sweet flavours of grape, green apple and pear, a refreshing wine that is easy to drink - perfect for a liquid lunch!
Varietal: Moscato | Region: California | Alcohol: 8.5% | Sweetness: 3-4 (Sweet)
$175 for 29 bottles

Crisp, dry Rosé with balanced notes of strawberry and raspberry.
Varietal: Grenache | Region: Australia | Alcohol: 12% | Sweetness: 0 (Dry)
$220 for 29 bottles
Pretty in pink, off-dry with sweetness coming through in cherry and strawberry notes. Very easy to drink and particularly refreshing in the warmer months!
Varietal: White Zinfandel | Region: California | Alcohol: 11.5% | Sweetness: 2 (Off-Dry)
$175 for 29 bottles

Easy drinking smooth red with earthy notes of strawberry and cherry.
Varietal: Pinot Noir | Region: California | Alcohol: 12.5% | Sweetness: 0 (Dry)
$180 for 29 bottles
Black cherry, blueberry and smokey notes.
Varietal: Diablo Rojo | Region: Chile | Alcohol: 13% | Sweetness: 1 (Off-Dry)
$180 for 29 bottles
Make Sparkling Wine in Kamloops
Step 1 - Choose Your Sparkling Wine
Firstly, either from our list online or in store, choose the batch of sparkling wine that you would like to make with us. Each batch is 23L, which makes 29 bottles of bubbly wine.
The next step is to come into store to pay for and pitch the yeast into your batch. Although only taking a few seconds, this the most important step in making your wine with us and is a legal requirement. Sprinkling the yeast is what starts the winemaking process, and turns the lovely grape juice into delicious wine, so enjoy the moment! 
Step 3 - Let Us Do The Work
Your bubbly will be ready to bottle in 5 weeks. During this time, you can sit back and relax while we do the rest.
Our team will be caring for your batch while it ferments, clears and settles before moving it into an aging room until you are ready to come in to bottle. Just before bottling, we will filter your batch with our state-of-the-art filtering system.
Step 4 - Call to Make an Appointment to Bottle
When you are ready, and the "due date" is coming up or already past, call us to make an appointment to bottle. We need two days notice for a sparkling wine appointment!
You will require 30 sparkling wine bottles (or bottles suited for carbonated beverages) per batch that you have made. If you would like to save any bottles that you have already, simply rinse them out after drinking and bring them with you on the bottling day. If you do not have any bottles at home, you are welcome to buy bottles from us on the day.
Step 5 - Bottle Your Wine!
On your appointment day, come in to bottle! If it is your first time, or if you need a refresher, our friendly team will lead you through the entire process.
It is best practice to sanitize your bottles prior to bottling. If you do not have a method of doing this at home, we have a sanitizing machine that automatically sanitizes your bottles in 2 minutes.
Bottling itself is a very easy process. We have automatic bottle fillers that fill two bottles at a time, and a corking machine. If you wish to buy labels to add to your bottles, you are more than welcome to do so, and we are also able to make custom labels for special occasions. In total, the entire process takes approximately 45 mins per batch.
Step 6 - Store & Age Your Wine
After bottling, take straight home to store and age until you are ready to enjoy it!
The wine made at BA Brewmaster and BA Winexpert has less preservatives than commercial wines, which has many advantages for the consumer, but means that your wine needs to be stored in a cool dark place. The ideal temperature is between 7°C-13°C (45°F-55°F), however cool garages and basements will be okay so long as they do not reach above 20°C (68°F).
Our sparkling wines can be enjoyed straight away, but if you are looking to get the very best out of your wine we provide optimal aging guidelines for you.
The last and easiest step of all - enjoy!!! 
We offer a 100% satisfaction guarantee - this means that if you store, age, then try your wine, and it simply does not suit your taste, all you need to do is let us know and return your full bottles. We will add a credit to your account and you can make another batch to find something that suits your taste. Moreover, if you are still unhappy we will refund you entirely. This is how sure we are that you will enjoy our wines. Love Your Wine, Guaranteed. 
For more information on our Guarantee, please click here.
Reusable Sparkling Wine bottle 750ml (green) - $2.20 each
$63.80 full batch of 29
Reusable Flip Top Bottle 750ml (green) - $4 each
$116 full batch of 29
Non-Reusable Cans 355ml
61 Cans: $20 total
(You are more than welcome to bottle into your own bottles - just be sure that they are suited to carbonated beverages - unfortunately standard wine bottles can not be used!)
Looking for something different?
We can make any of our wines sparkling, so if you pop back over to our wine page you can also choose from any of our varietals there!