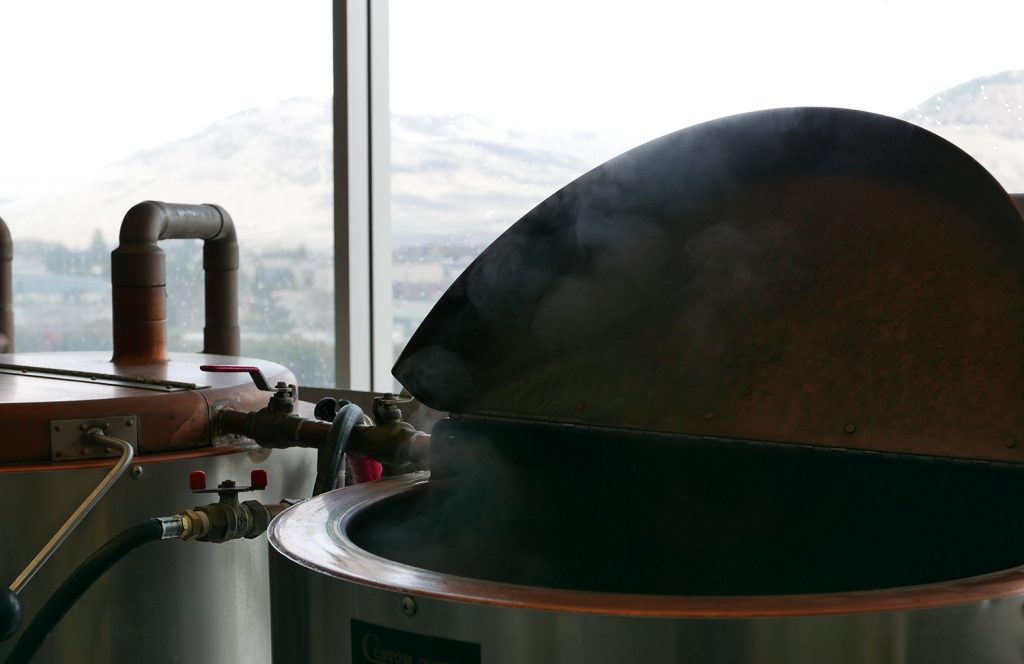 We brew our craft beer from fresh ingredients in 48L copper kettles.
Our brewing process is the same as a small brewery, but instead of having one pint pulled for you, an entire kettle is assigned to your brew.
You can choose to make beers from our BA Brews or our replica recipes for your favourite commercial or craft beers.
If you have something interesting or crazy in mind you can Be A Brewmaster and make your own recipe with our Master Brewer Logan who always enjoys coming up with new beers.
Proper Microbrewery craft beers at a fraction of the cost. What's to lose?
Brew what you love. Love what you brew.
Step 1 - Choose Your Beer
Either from our Beer List online or in store, choose the batch of beer that you would like to make with us.
A full batch of beer is 48L, which makes approx 135 (355ml) bottles. A half batch is 24L, which makes approx 67 (355ml) bottles.
Call or email us to let us know which beer you would like to make, at least 24 hours before you come into store. This gives us time to brew your beer (called wort at this point), ready for the next step.
Come into store to pay for your beer and pitch the yeast. This turns your wort into beer. This is an important and legal step in making beer with us, but only takes around 5 minutes.
Step 3 - Let Us Do The Work
Depending on what beer you chose to make, your brew will be ready in 2-3 weeks. During this time, you can sit back while we do the rest.
Our Brewmasters will be working with your beer while it ferments, clears and settles. Your beer will then be filtered and carbonated with our brewery grade filter-carbing system before you bottle.
Step 4 - Call to Make an Appointment to Bottle
When your beer is ready, just give us call us to make an appointment to bottle. 
Your beer can be bottled into Glass, Plastic or Cans. You will need to let us know which you plan to bottle into when you make your appointment so that we can carbonate your beer to the appropriate pressure.
If you drink beer from the liquor store, you can re-use the bottles to bottle your beer with us into. Simply rinse them out after drinking, deface any commercial labels and bring them with you on your bottling day. If you do not have any, or would like to buy a full set from us, you are very welcome to on the day.
For our bottle prices click here. 
Step 5 - Bottle Your Beer
On your appointment day, come in to bottle your beer! Our team will show you the ropes and you can take it from there.
It is best practice to sanitize your bottles prior to bottling. We have a sanitizing machine that automatically sanitizes your bottles and takes around 10 minutes (the machine takes $2.00 per 48 bottles). Or we have manual hand sanitizer pumps that can be used for free, but can take up to 20 minutes.
Bottling itself is a fun and easy process. We have separate beer bottling stations for Glass, Plastic, and Cans with automatic fillers and cappers. Bottling takes around 1 hour per batch of beer.
After bottling, take your beer straight home and into the fridge.
Beer made at BA Brewmaster has no artificial preservatives, unlike commercial beers. This is great for general health and reducing hangovers, but means that if it doesn't stay cold it can go bad, and nobody likes wasted beer. Be sure that you have fridge space before bottling.
If you do not have enough space, consider splitting batches with a friend or making a half batch!
Your beer will last for around 3 months in the fridge. 
Now that's the ticket. 
We believe in the quality of our beer 100%. We are not allowed to give out tasters, so we back our beer up by the promise that if you make a batch of beer (and have stored it in the fridge properly) but find that you are not enjoying it, just bring the bottles/cans back to us and we will put on a different batch for free. Still not happy? We'll refund you for the beers left over. Life is too short to drink bad beer.
We want you to be happy with the beer you brew. It's that simple.
For more information on our Guarantee, please click here.
Our favourite original recipes, originated and brewed
BA Amber IPA
This 7.2% Amber Ale is a perfect example of a classic West Coast IPA. The Cascade hops provide the beautiful piney and floral notes famous in our beautiful part of the world.
BA Blonde
This is one of our classic BA Brewmaster recipes. With a beautiful deep golden hue, the BA Blonde is smooth, balanced and approachable. The blonde is a great beer for a lager drinker who wants to start exploring ales.
BA Cascadian Dark Ale / Black IPA
A Cascadian staple, this dark and roasty ale has a bite of resinous pine and citrus from its Northwest hops. A medium body (not heavy like a porter or stout) with sweet malt and chocolate notes balance beautifully with the sharp, fresh hops from our region. This is one of our Master Brewer Logan's favourite beers to brew (and drink!)
BA Citra IPA
Our favourite golden IPA utilizes solely citra hops for a lively citrus-forward brew. This hop has been incredibly popular in the brewing world for the past few years and we are so excited to put our own mark on it. A careful balance between zingy hops, smooth malt and a beautiful citrus aroma, this is one of our very favourite beers for the summer. If you are not sure about IPAs, this a great place to start!
BA Hazy IPA
A juicy and balanced brew that utilizes citrus forward hops that bring out notes of mango, orange and grapefruit. Very low bitterness is balanced by huge aromatics from the hops. Sunshine in a glass, this is our new favourite beer for the spring and summer!
BA Kolsch – June Special!
A style originating from Köln, Kölsch is a lagered ale – fermented with ale yeast, but finished in cold temperatures like a lager. This makes for a refreshing, easy drinking beer with a subtle crisp fruitiness from the ale yeast. We recommend letting this sit for at least 4 weeks before bottling – the longer you leave it, the greater it will be. Currently Beer of the Month – at a special price!
BA Saison
Traditionally brewed in Farmhouses in Belgium and France to sustain seasonal workers in the hot summer sun, our take on a Farmhouse Saison makes for a refreshing, light brew. Peppercorn and spice balance with fruity and floral notes – worth a try if want something a little funky. Even better bottled in glass bottles (we can achieve higher carbonation) and made unfiltered, though be sure you have reliable cold storage.
Duke's Irish Lager
Clean, crisp and easy to drink, Duke's Irish Lager is truly fit for nobility. British hops bestow delicate and floral hop flavours whilst crystal malt provides the deep golden colour and a smooth caramel finish. Crafted by Logan and seal of approval awarded by Tyson Ducommun, this is one of our favourite lagers to date!
Ginger Beer
This beer has bite! We use fresh ginger in the boil to give this beer a great balance of ginger and malt with medium bitterness. It pours a sparkling golden colour and smells of fresh ginger. This is sure to blast away any sniffles or sore throats! We can tailor the amount of boiled ginger to your taste, so this beer can be as spicy as you like it.
Peacemaker Amber Ale
This beer bridges the gap between West Coast pale ales and traditional English amber ales. This beer was created for Laura, a Brit who has taken to the wilds of BC, who loves the hoppy beers of the PNW but also appreciates the stoic and steadfast English amber. So she and Logan designed a beer with the drinkability of an English pub favourite, with the flavours of North American hops. What resulted was a beautifully balanced and refreshing amber ale.
Winter Warmer Ale
This dark and delicious ale is perfect for the cold winter season. Using an abundance of dark malts and classic mulling spices to achieve a balanced and robust dark ale, this beer will keep your spirits up no matter what weather comes our way!
Workhorse Red Ale
This recipe was commissioned by our Shannon who is a self-proclaimed history buff. After spending 5 years in the UK, she became fascinated with the Victorian era. Shannon wanted a beer that was similar to what a 19th century farm worker would drink while they're taking a lunch break under the hot sun: something that would quench your thirst and keep you going through the long afternoon. With low bitterness and high malt character, and with a creamy head and thick mouth-feel, this beer is for the hard workers who won't rest until the job is done.
BA Alt Bier
Our style on an altbier, a dark copper ale originating from Germany, with a clean, crisp and balanced flavour profile.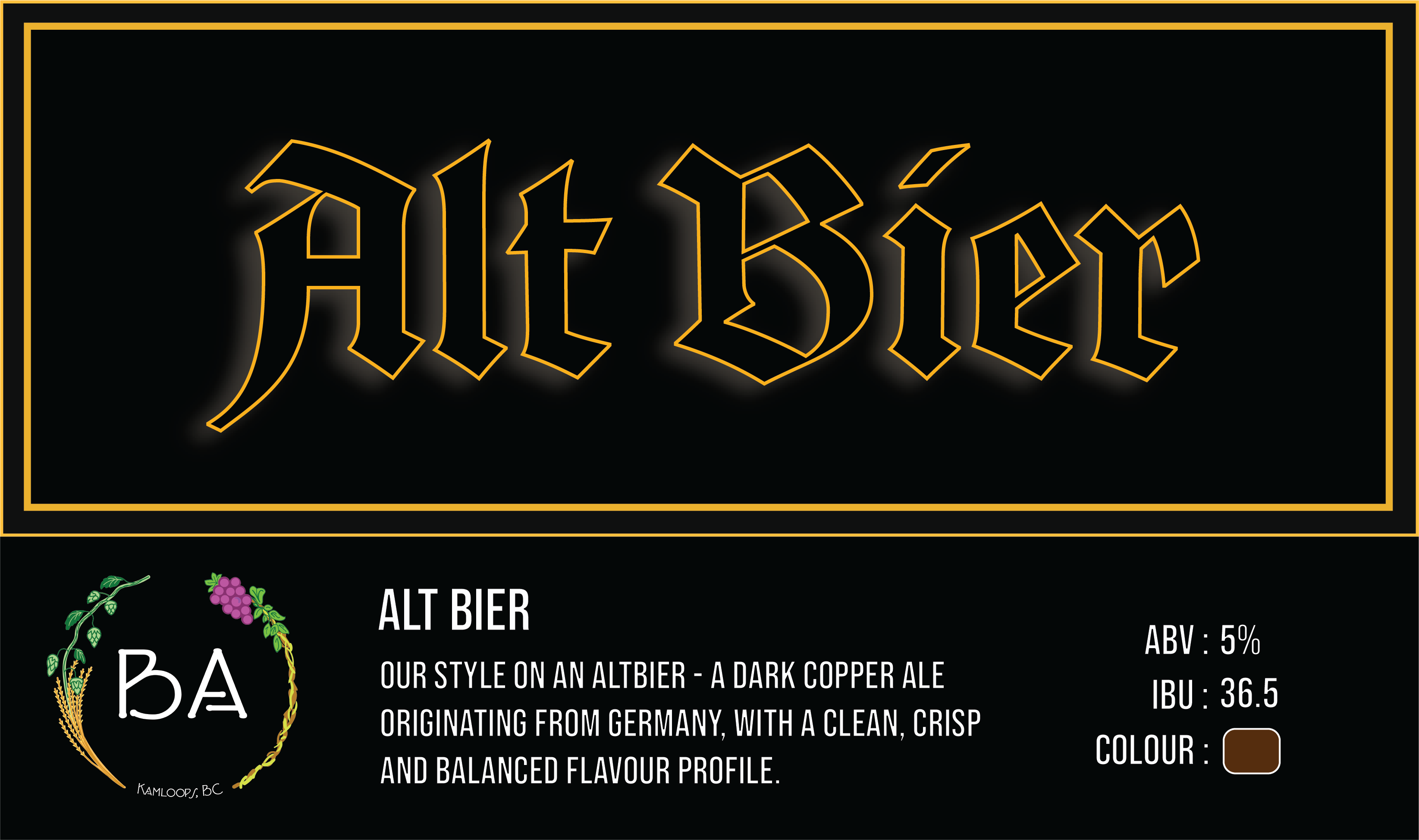 The Loopy Blue Van
Brewed in and inspired by Kamloops, BC, the Loopy Blue Van is a refreshing Blueberry Vanilla Ale with smooth vanilla notes juxtaposed with a burst of fruity blueberry overtones. We can thank our brilliant customers Tod and Don for dreaming up this tasty beer, Logan for making the recipe, and Laura for designing the label!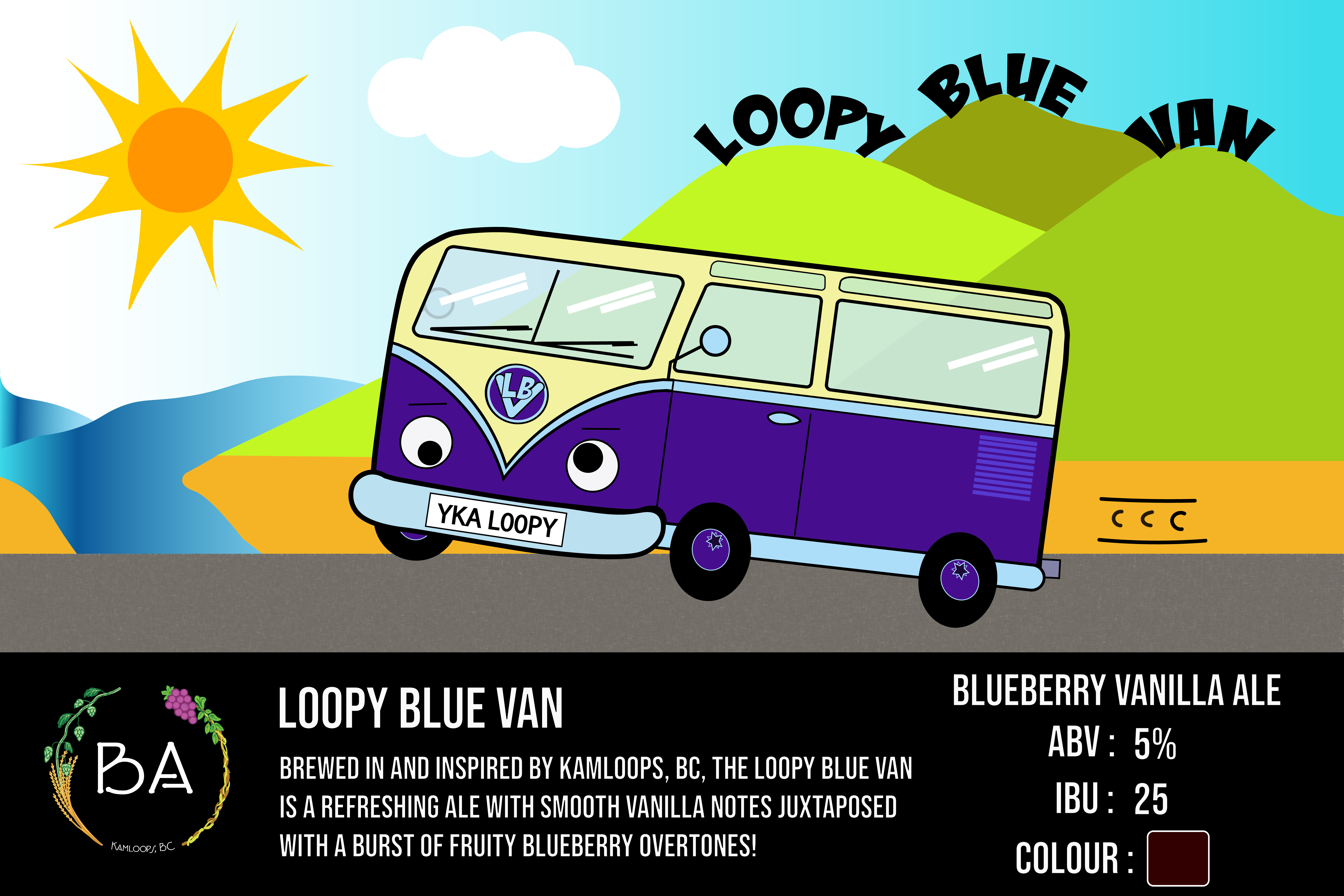 Canadian Maple Cream Ale
An ode to our beautiful country, this creamy and refreshing ale uses Canadian maple syrup for beautiful earthy and floral notes.
Dopplebock
A dopplebock is a dark german lager that is well known for its high alcohol percentage and robust malty taste. Our dopplebock has an intensely malty aroma, with some welcomed toasty notes.
Dry Stout
This is a classic dry Irish stout, but it is not our take on Guinness! We are not able to replicate a Guinness-type beer, but this is a very malt forward stout with a pronounced coffee and roasty character. Medium to high bitterness helps to balance out the sweetness from the dark malt.
Dubbel Trouble
This malt-forward Belgian ale is high in alcohol and has notes of caramel and toffee, mixed with bready malt flavours.
Dutch Lager
This amber-coloured lager has medium to high bitterness with little to no hop aroma. A little bit of roast malt helps to complete this easy drinking lager.
English Special Bitter (ESB)
This malt-forward English ale is very sessionable, using all English hops to give this style its balanced bitterness and sweetness.
German Bock
This is an all-malt lager with lots of toasted, nutty flavours and mild sweetness. With roasted characters coming from the malts, this beer has some kick to it!
German Lager
This lager is very similar to our Gosh! German Lager but comes out a tad darker and with a little less bitterness. It pours a beautiful gold colour and goes down easy.
Grapefruit Citra Ale
This beer is the perfect blend of hop aroma and flavour, mixed with wonderful tar grapefruit notes. We use grapefruit juice to really bring out the citrus notes from the Citra hops used in this ale.
Krona Citra
This hop-forward lager is the perfect blend of light and drinkable mixed with the full flavour of citra hops. The finish is a crisp citrus punch.
Light Weight Lager
This incredibly sessionable and thirst quenching lager comes in around 3.5% alcohol and is our smoothest and lightest beer to date! Hats off to the Hansons for coming up with this one. If you are looking for an extra-light beer that's perfect for some yard work on a hot day, this beer is for you!
Mocha Porter
This smooth porter uses fresh cold brew coffee to achieve a nice balance between roast and chocolate notes.
Monk Beer
This is our version of a classic trappist quad ale. It comes in at a whopping 12% and has notes of stone fruit and candied sugar.
Nut Brown Ale
A classic English nut brown ale, with munich and crystal malt providing a delicious nuttiness and a well rounded malt sweetness. The recipe for this beer is a great base for adding different flavours, be it vanilla or blueberry, or making changes to the malts to make a personalized pint.
OCG
This a very fruit-forward ale. It is blended with orange citrus guava concentrate which gives this ale a bright punch! It's a perfect sipper for a hot day.
Pacific North West Red Ale
This red ale uses primarily cascade hops for wonderful floral and citrus notes, which are balanced by a medium bitterness and some sweet malt character.
Pumpkin Spice Ale
This spiced amber ale uses real pumpkin in the boil and classic mulling spices to achieve the perfect harvest season ale. This is available year-round, not just in the Fall! We are able to add as much or as little spice as you like.
Razzle Dazzle Raspberry Beer
This beer is light and drinkable with very little bitterness. It has notes of tart raspberry and pours a crisp pink-red colour.
Russian Imperial Stout
This is a strong dark beer, similar to a normal stout but with a much high ABV. It is very suitable for aging, which will increase the smoothness and drinkability of this heavy hitter.
Simple Jackson ISA
ISA stands for India Session Ale. This beer is very similar to most west coast IPAs, but without the high alcohol percentage. Coming in at 4.5% and packed with hop flavour, this beer is the perfect hoppy patio sipper.
Space Dust 42
Space Dust 42 is a very smooth and crisp black lager. The use of dark malts give this beer chocolate and nutty flavours that balance well with a clean lager yeast.
Stark IPA
This dark IPA gets its name from abbreviating Stupid Dark, as it pours a dark copper colour. This beer has a large presence of roast and chocolate character, which balances the classic IPA bitterness and ABV. this beer is sure to be a favourite for any lover of IPAs.
Sweet Stout
If you like your beer sweet with little bitterness and some subtle hints of coffee and chocolate, this beer is for you! We can vanilla to really complement this dessert stout.
Tripel
This high ABV beer pours a nice golden colour and is incredibly flavourful. Notes of spice and bread characterize this style.
Our own take on your favourite commercial beers
but with less preservatives and brewed in Kamloops, BC.
| | | | | | | |
| --- | --- | --- | --- | --- | --- | --- |
| If you like: | Try our: | Type | IBU | Colour | % | Country |
| | | | |
| --- | --- | --- | --- |
| If you like: | Try our: | Type | % |
| | | | | | | |
| --- | --- | --- | --- | --- | --- | --- |
| Alexander Keiths | Nova Scotia Specialty | Ale | 24 | Pale | 5 | Canada |
| | | | | | | |
| --- | --- | --- | --- | --- | --- | --- |
| Anchor Steam | American Steam | Lager | 40 | Gold/Amber | 4.8 | USA |
| | | | | | | |
| --- | --- | --- | --- | --- | --- | --- |
| Asahi | Japanese Super Dry | Lager | 16 | Golden | 5 | Japan |
| | | | | | | |
| --- | --- | --- | --- | --- | --- | --- |
| Bass | Tom's 22 | Ale | 26 | Copper | 5 | England |
| | | | | | | |
| --- | --- | --- | --- | --- | --- | --- |
| Bavarian Bock | Bavarian Bock | Lager | 30 | Dark Brown | 6.4 | Germany |
| | | | | | | |
| --- | --- | --- | --- | --- | --- | --- |
| Bavarian Dark | Munich Dunkel | Lager | 20 | Brown | 4.9 | Germany |
| | | | | | | |
| --- | --- | --- | --- | --- | --- | --- |
| Beck's | Bex | Lager | 44 | Golden | 5 | Germany |
| | | | | | | |
| --- | --- | --- | --- | --- | --- | --- |
| Big Rock Traditional Ale | Trad Ale | Ale | 33 | Copper | 5.6 | Canada |
| | | | | | | |
| --- | --- | --- | --- | --- | --- | --- |
| Black Label | Canadian Lager 3 | Lager | 19 | Pale | 5 | Canada |
| | | | | | | |
| --- | --- | --- | --- | --- | --- | --- |
| Black Tusk | Black-n-Tan | Ale | 21 | Dark Brown | 5 | Canada |
| | | | | | | |
| --- | --- | --- | --- | --- | --- | --- |
| Brown Ale Style | Northern Brown Ale | Ale | 19 | Medium Brown | 5 | England |
| | | | | | | |
| --- | --- | --- | --- | --- | --- | --- |
| Brown Ale Style | Nut Brown Ale | Ale | 18 | Medium Brown | 4.5 | England |
| | | | | | | |
| --- | --- | --- | --- | --- | --- | --- |
| Budweiser | Beechwood | Lager | 14 | Pale | 4.5 | USA |
| | | | | | | |
| --- | --- | --- | --- | --- | --- | --- |
| Canadian Style Lager | Canadian Lager 1 | Lager | 20 | Pale | 5 | Canada |
| | | | | | | |
| --- | --- | --- | --- | --- | --- | --- |
| Cantebury | Canadian Specialty 9 | Ale | 17 | Brown | 5 | Canada |
| | | | | | | |
| --- | --- | --- | --- | --- | --- | --- |
| Carlsberg | Danish Premium Lager | Lager | 23 | Straw | 5 | Denmark |
| | | | | | | |
| --- | --- | --- | --- | --- | --- | --- |
| Carlsberg Light | Danish Premium Light | Lager | 17 | Pale | 4 | Denmark |
| | | | | | | |
| --- | --- | --- | --- | --- | --- | --- |
| Champlain Porter | Creamy Porter | Porter | 30 | Black | 4.9 | Canada |
| | | | | | | |
| --- | --- | --- | --- | --- | --- | --- |
| Chimay Blue | Dubbel Trubbel | Ale | 24.5 | Amber/Brown | 9.2 | Belgium |
| | | | | | | |
| --- | --- | --- | --- | --- | --- | --- |
| Ching Hua Beer | Chinese Light | Lager | 16 | Golden | 3.7 | China |
| | | | | | | |
| --- | --- | --- | --- | --- | --- | --- |
| Conner's Bitter | Canadian Specialty 5 | Ale | 20 | Amber | 5 | Canada |
| | | | | | | |
| --- | --- | --- | --- | --- | --- | --- |
| Conner's Lager | Canadian Specialty 4 | Lager | 21 | Golden | 5 | Canada |
| | | | | | | |
| --- | --- | --- | --- | --- | --- | --- |
| Coors Banquet | Zack's Banquet | Lager | 19 | Pale | 4.5 | USA |
| | | | | | | |
| --- | --- | --- | --- | --- | --- | --- |
| Coors Light | Zack's Lager | Lager | 19 | Straw | 4.8 | USA |
| | | | | | | |
| --- | --- | --- | --- | --- | --- | --- |
| Corona | Krona | Lager | 15 | Straw | 4.5 | Mexico |
| | | | | | | |
| --- | --- | --- | --- | --- | --- | --- |
| Cream Ale | Cream Ale | Ale | 17 | Pale | 5 | USA |
| | | | | | | |
| --- | --- | --- | --- | --- | --- | --- |
| Creemore | Baster Lager | Lager | 30 | Golden | 5 | Canada |
| | | | | | | |
| --- | --- | --- | --- | --- | --- | --- |
| Czech Pilsner (Pilsner Urquell) | Original Pilzen | Pilsner | 41 | Golden | 4.7 | Czech Republic |
| | | | | | | |
| --- | --- | --- | --- | --- | --- | --- |
| Czech Pilsner Urquell Export | Czech Pils | Pilsner | 33 | Golden | 4.7 | Czech Republic |
| | | | | | | |
| --- | --- | --- | --- | --- | --- | --- |
| D.A.B | Dortmund | Lager | 26 | Golden | 5.6 | Germany |
| | | | | | | |
| --- | --- | --- | --- | --- | --- | --- |
| Dos Equies Dark | M.S. Dos (Dark) | Lager | 22 | Amber | 5.5 | Mexico |
| | | | | | | |
| --- | --- | --- | --- | --- | --- | --- |
| Dos Equies Lite | M.S. Dos (Light) | Lager | 22 | Pale | 5.5 | Mexico |
| | | | | | | |
| --- | --- | --- | --- | --- | --- | --- |
| Double Diamond | The Prince's Tipple | Ale | 27 | Pale Brown | 5.5 | England |
| | | | | | | |
| --- | --- | --- | --- | --- | --- | --- |
| Dry Stout | Blackfly Stout | Stout | 39 | Black | 4.9 | |
| | | | | | | |
| --- | --- | --- | --- | --- | --- | --- |
| Dubbel | Belgian Dubbel | Ale | 23 | Dark Gold | 6.8 | Belgium |
| | | | | | | |
| --- | --- | --- | --- | --- | --- | --- |
| Duvel | Belgian Tripple | Tripel | 26 | Golden | 8.2 | Belgium |
| | | | | | | |
| --- | --- | --- | --- | --- | --- | --- |
| Earl's Rhino | Harry's Hippo | Ale | 25 | Golden | 4.5 | Canada |
| | | | | | | |
| --- | --- | --- | --- | --- | --- | --- |
| Elephant Beer | Danish Strong Lager | Lager | 24 | Golden | 7.2 | Denmark |
| | | | | | | |
| --- | --- | --- | --- | --- | --- | --- |
| English Bitter Style (11) | Okanagan Bitter | Bitter | 32 | Copper | 5.7 | England |
| | | | | | | |
| --- | --- | --- | --- | --- | --- | --- |
| English Bitter Style (12) | Special Bitter | Bitter | 25 | Amber | 5 | England |
| | | | | | | |
| --- | --- | --- | --- | --- | --- | --- |
| English Bitter Style (21) | Pub Bitter | Bitter | 20 | Amber | 4 | England |
| | | | | | | |
| --- | --- | --- | --- | --- | --- | --- |
| English Bitter Style (79) | Extra Special Bitter | Bitter | 42 | Amber | 5.5 | England |
| | | | | | | |
| --- | --- | --- | --- | --- | --- | --- |
| Export Stout Style | Export Stout | Stout | 41 | Black | 7 | |
| | | | | | | |
| --- | --- | --- | --- | --- | --- | --- |
| Extra Old Stock | Olde Ale | Ale | 20 | Pale | 5.5 | Canada |
| | | | | | | |
| --- | --- | --- | --- | --- | --- | --- |
| Fat Tug | Slim Pull | IPA | 60 | Light Amber | 6.5 | Canada |
| | | | | | | |
| --- | --- | --- | --- | --- | --- | --- |
| Fisher d'Alsace | Alsatian Ale | Ale | 22 | Golden | 6.5 | France |
| | | | | | | |
| --- | --- | --- | --- | --- | --- | --- |
| Fosters | Aussie Lager | Lager | 22 | Pale | 4.5 | Australia |
| | | | | | | |
| --- | --- | --- | --- | --- | --- | --- |
| Gold Leaf Lager | Bright Sky Lager | Lager | 24 | Golden | 5.5 | USA |
| | | | | | | |
| --- | --- | --- | --- | --- | --- | --- |
| Granville Island Pale Ale | Sinking City Pale Ale | Ale | 15.8 | Golden | 5.3 | Canada |
| | | | | | | |
| --- | --- | --- | --- | --- | --- | --- |
| Grolsch | Gosh! | Lager | 22 | Straw | 5.5 | Netherlands |
| | | | | | | |
| --- | --- | --- | --- | --- | --- | --- |
| Guinness | Irish Stout | Stout | 37 | Black | 4.5 | Ireland |
| | | | | | | |
| --- | --- | --- | --- | --- | --- | --- |
| Harp Lager | Sharp's Lager | Lager | 30.8 | Golden | 5 | Ireland |
| | | | | | | |
| --- | --- | --- | --- | --- | --- | --- |
| Heineken | Oktoberfest Lager | Lager | 40 | Golden | 5.5 | Netherlands |
| | | | | | | |
| --- | --- | --- | --- | --- | --- | --- |
| Heineken Dark | Dutch Dark Lager | Lager | 26 | Copper | 5 | Netherlands |
| | | | | | | |
| --- | --- | --- | --- | --- | --- | --- |
| India Pale Ale | India Pale Ale | IPA | 40 | Amber | 5.7 | USA |
| | | | | | | |
| --- | --- | --- | --- | --- | --- | --- |
| Kirin | Tokyo Gold | Lager | 22 | Golden | 4.5 | Japan |
| | | | | | | |
| --- | --- | --- | --- | --- | --- | --- |
| Kokanee | Kariboo | Lager | 11 | Golden | 5 | Canada |
| | | | | | | |
| --- | --- | --- | --- | --- | --- | --- |
| Kokanee Light | Kariboo Lite | Lager | 10 | Straw | 4 | Canada |
| | | | | | | |
| --- | --- | --- | --- | --- | --- | --- |
| Labatt's 50 | House Ale | Ale | 26 | Medium Brown | 5 | Canada |
| | | | | | | |
| --- | --- | --- | --- | --- | --- | --- |
| Labatt's Blue | Blue Pilsner | Pilsner | 22 | Straw | 5 | Canada |
| | | | | | | |
| --- | --- | --- | --- | --- | --- | --- |
| Labatt's Classic | Slat's Special | Lager | 17 | Golden | 4.9 | Canada |
| | | | | | | |
| --- | --- | --- | --- | --- | --- | --- |
| Labatt's Dry | Dry Lager | Lager | 16 | Copper | 5 | Canada |
| | | | | | | |
| --- | --- | --- | --- | --- | --- | --- |
| Labatt's Genuine Draft | Genuine Brewmaster Draft | Lager | 33 | Amber | 5.5 | Canada |
| | | | | | | |
| --- | --- | --- | --- | --- | --- | --- |
| Labatt's Light | Canadian Light | Lager | 12 | Straw | 4.5 | Canada |
| | | | | | | |
| --- | --- | --- | --- | --- | --- | --- |
| Le Fin du Monde | The Final Countdown | Tripel | 37.3 | Deep Gold | 8.1 | Canada |
| | | | | | | |
| --- | --- | --- | --- | --- | --- | --- |
| Lowenrau | German Lager 2 | Lager | 30 | Golden | 5 | Germany |
| | | | | | | |
| --- | --- | --- | --- | --- | --- | --- |
| Märzen Style | Märzen Lager | Lager | 24 | Deep Gold | 5.2 | Germany |
| | | | | | | |
| --- | --- | --- | --- | --- | --- | --- |
| McEwan's Scotch Ale | Scotty's Scotch Ale | Ale | 55 | Brown | 7 | Scotland |
| | | | | | | |
| --- | --- | --- | --- | --- | --- | --- |
| Mexican Lager | Toro Cerveza | Lager | | Pale | 5.2 | Mexico |
| | | | | | | |
| --- | --- | --- | --- | --- | --- | --- |
| Miller Chill | Sub Lime | Lager | 15 | Straw | 5.0 | USA |
| | | | | | | |
| --- | --- | --- | --- | --- | --- | --- |
| Miller Lite | Mid-Lite | Lager | 19 | Pale | 4.8 | USA |
| | | | | | | |
| --- | --- | --- | --- | --- | --- | --- |
| Molson Canadian | Canuck | Lager | 13 | Straw | 4.8 | Canada |
| | | | | | | |
| --- | --- | --- | --- | --- | --- | --- |
| Molson Export | Canadian Ale | Ale | 18 | Golden | 5.1 | Canada |
| | | | | | | |
| --- | --- | --- | --- | --- | --- | --- |
| Molson Golden | Guerk's Gold | Ale | 27 | Copper | 5 | Canada |
| | | | | | | |
| --- | --- | --- | --- | --- | --- | --- |
| Molson Special | Very Light | Lager | 12 | Straw | 3.4 | Canada |
| | | | | | | |
| --- | --- | --- | --- | --- | --- | --- |
| Molson's Dry | Super Dry | Lager | 20 | Straw | 4.7 | Canada |
| | | | | | | |
| --- | --- | --- | --- | --- | --- | --- |
| Moosehead | Bullwinkle | Lager | 21 | Straw | 5 | Canada |
| | | | | | | |
| --- | --- | --- | --- | --- | --- | --- |
| Munich Pale | Munich Helles | Lager | 21 | Golden | 5.1 | Germany |
| | | | | | | |
| --- | --- | --- | --- | --- | --- | --- |
| Nasty Habbit | Nasty Hobbit | Ale | 60 | Deep Amber | 7.8 | Canada |
| | | | | | | |
| --- | --- | --- | --- | --- | --- | --- |
| Newcastle Brown | Newcastle's Finest | Ale | 18 | Brown | 5 | England |
| | | | | | | |
| --- | --- | --- | --- | --- | --- | --- |
| Newcastle Brown Ale | Brown Ale | Ale | 35 | Brown | 5 | England |
| | | | | | | |
| --- | --- | --- | --- | --- | --- | --- |
| O.V. (Old Vienna - Molson) | Old Victoria | Lager | 16 | Straw | 4.6 | Canada |
| | | | | | | |
| --- | --- | --- | --- | --- | --- | --- |
| Okanagan Springs Pale Ale | Pale Ale Premium | Ale | 9.83 | Golden | 5.5 | Canada |
| | | | | | | |
| --- | --- | --- | --- | --- | --- | --- |
| Okanagan Springs Pale Ale (with honey) | Honey Pale Ale | Ale | 9.83 | Golden | 5.5 | Canada |
| | | | | | | |
| --- | --- | --- | --- | --- | --- | --- |
| Okanagan Springs Pilsner | O.K. Pill | Pilsner | 35 | Golden | 4.8 | Canada |
| | | | | | | |
| --- | --- | --- | --- | --- | --- | --- |
| Old Milwaukee | Pilsner Light | Pilsner | 11 | Straw | 4.2 | USA |
| | | | | | | |
| --- | --- | --- | --- | --- | --- | --- |
| Old Style Pilsner | Canadian Pilsner | Pilsner | 13 | Straw | 5 | Canada |
| | | | | | | |
| --- | --- | --- | --- | --- | --- | --- |
| Paulaner Munchner Hell | Original Munchner | Lager | 22 | Golden | 4.8 | Germany |
| | | | | | | |
| --- | --- | --- | --- | --- | --- | --- |
| Pilsner Urquel | Prague Pilsner | Pilsner | 19 | Golden | 4.8 | Czech Republic |
| | | | | | | |
| --- | --- | --- | --- | --- | --- | --- |
| Radler | Grapefruit Radler | Radler | 0 | Cloudy Pink | 2.5 | Germany |
| | | | | | | |
| --- | --- | --- | --- | --- | --- | --- |
| Red Racer | Red Race Car | IPA | 63 | Pale Amber | 6.6 | Canada |
| | | | | | | |
| --- | --- | --- | --- | --- | --- | --- |
| Red Stripe | Caribbean Lager | Lager | 18 | Straw | 4.6 | Jamaica |
| | | | | | | |
| --- | --- | --- | --- | --- | --- | --- |
| Red Truck IPA | Lil' Red Pick Up | IPA | 43 | Pale Amber | 6.5 | Canada |
| | | | | | | |
| --- | --- | --- | --- | --- | --- | --- |
| Rickard's Dark | Rex's Dark | Ale | 22 | Ruby Brown | 5 | Canada |
| | | | | | | |
| --- | --- | --- | --- | --- | --- | --- |
| Rickard's Red | Rex's Red | Lager | 15 | Copper | 5 | Canada |
| | | | | | | |
| --- | --- | --- | --- | --- | --- | --- |
| Russian Imperial Stout | Boris Bradinov Stout | Stout | 54 | Black | 8.5 | Russia |
| | | | | | | |
| --- | --- | --- | --- | --- | --- | --- |
| Russian Pilsner | Baltika | Pilsner | 21.9 | Copper | 5.4 | Russia |
| | | | | | | |
| --- | --- | --- | --- | --- | --- | --- |
| Sapporo Lager | Japanese Lager | Lager | 18 | Golden | 5 | Japan |
| | | | | | | |
| --- | --- | --- | --- | --- | --- | --- |
| Schwarzbier Style | Schwartzbier | Lager | 24 | Black | 4.5 | Germany |
| | | | | | | |
| --- | --- | --- | --- | --- | --- | --- |
| Scottish Ale | Scottish Export | Ale | 17 | Brown | 4.6 | Scotland |
| | | | | | | |
| --- | --- | --- | --- | --- | --- | --- |
| Scottish Ale | Scottish Heavy | Ale | 18 | Dark Amber | 4 | Scotland |
| | | | | | | |
| --- | --- | --- | --- | --- | --- | --- |
| Shaftebury Cream | Canadian Specialty 8 | Ale | 24 | Brown | 5 | Canada |
| | | | | | | |
| --- | --- | --- | --- | --- | --- | --- |
| Singha | Thai Pilsner | Pilsner | 22 | Straw | 4.7 | Thailand |
| | | | | | | |
| --- | --- | --- | --- | --- | --- | --- |
| Sleeman's Cream Ale | Premium Cream Ale | Ale | 31 | Golden | 5.2 | Canada |
| | | | | | | |
| --- | --- | --- | --- | --- | --- | --- |
| Sleeman's Lager | Canadian Specialty 1 | Lager | 23 | Golden | 5 | Canada |
| | | | | | | |
| --- | --- | --- | --- | --- | --- | --- |
| Smithwick's | Sticky Wicket | Ale | 29 | Dark Brown | 5.5 | Ireland |
| | | | | | | |
| --- | --- | --- | --- | --- | --- | --- |
| Staropramen | Prague Spring Pilsner | Pilsner | 30 | Golden | 4.8 | Czech Republic |
| | | | | | | |
| --- | --- | --- | --- | --- | --- | --- |
| Steinlager | Kiwi Lager | Lager | 17 | Golden | 5 | New Zealand |
| | | | | | | |
| --- | --- | --- | --- | --- | --- | --- |
| Stella Artois | Belgian Lager | Lager | 21.9 | Golden | 5.2 | Belgium |
| | | | | | | |
| --- | --- | --- | --- | --- | --- | --- |
| Stroh's | American Lager 3 | Lager | 15 | Golden | 4.5 | USA |
| | | | | | | |
| --- | --- | --- | --- | --- | --- | --- |
| Strong Ale | English Strong Ale | Ale | 34 | Copper | 6.7 | England |
| | | | | | | |
| --- | --- | --- | --- | --- | --- | --- |
| Strong Ale | Scotch Ale | Ale | 16 | Brown | 8.7 | Scotland |
| | | | | | | |
| --- | --- | --- | --- | --- | --- | --- |
| Sweet Stout | Sweet Stout | Stout | 22 | Black | 5 | |
| | | | | | | |
| --- | --- | --- | --- | --- | --- | --- |
| Switchback IPA | Switchblade IPA | IPA | 60 | Deep Gold | 6 | USA |
| | | | | | | |
| --- | --- | --- | --- | --- | --- | --- |
| Tennent's Lager | Scottish Lager | Lager | 22 | Golden | 5 | Scotland |
| | | | | | | |
| --- | --- | --- | --- | --- | --- | --- |
| Tiger Lager | Malayan Pilsner | Pilsner | 21 | Golden | 5.1 | Malaysia |
| | | | | | | |
| --- | --- | --- | --- | --- | --- | --- |
| Toby | English Ale 2 | Ale | 27 | Dark Brown | 5.5 | England |
| | | | | | | |
| --- | --- | --- | --- | --- | --- | --- |
| Trappisteiner | Monk Beer | Trappist | 36.2 | Ruby Brown | 11 | Belgium |
| | | | | | | |
| --- | --- | --- | --- | --- | --- | --- |
| Tsing Tao | Pavilion Pier | Lager | 29 | Golden | 4.4 | China |
| | | | | | | |
| --- | --- | --- | --- | --- | --- | --- |
| Tuborg | Danish Pilsner | Pilsner | 30 | Golden | 5 | Denmark |
| | | | | | | |
| --- | --- | --- | --- | --- | --- | --- |
| Twisted Tea | Tilted Tea | Hard Iced Tea | 0 | Golden | 4.5 | USA |
| | | | | | | |
| --- | --- | --- | --- | --- | --- | --- |
| Upper Canada Dark | Canadian Specialty 6 | Ale | 20 | Dark Brown | 5 | Canada |
| | | | | | | |
| --- | --- | --- | --- | --- | --- | --- |
| Vancouver Island Lager | Canucklehead | Ale | 13.5 | Straw | 5.3 | Canada |
| | | | | | | |
| --- | --- | --- | --- | --- | --- | --- |
| Whistler Grapefruit Ale | BA Grapefruit Ale | Ale | 14 | Cloudy Pink | 4.8 | Canada |
| | | | |
| --- | --- | --- | --- |
| Alexander Keiths | Nova Scotia Specialty | Ale | 5 |
| | | | |
| --- | --- | --- | --- |
| Anchor Steam | American Steam | Lager | 4.8 |
| | | | |
| --- | --- | --- | --- |
| Asahi | Japanese Super Dry | Lager | 5 |
| | | | |
| --- | --- | --- | --- |
| Bavarian Bock | Bavarian Bock | Lager | 6.4 |
| | | | |
| --- | --- | --- | --- |
| Bavarian Dark | Munich Dunkel | Lager | 4.9 |
| | | | |
| --- | --- | --- | --- |
| Big Rock Traditional Ale | Trad Ale | Ale | 5.6 |
| | | | |
| --- | --- | --- | --- |
| Black Label | Canadian Lager 3 | Lager | 5 |
| | | | |
| --- | --- | --- | --- |
| Black Tusk | Black-n-Tan | Ale | 5 |
| | | | |
| --- | --- | --- | --- |
| Brown Ale Style | Northern Brown Ale | Ale | 5 |
| | | | |
| --- | --- | --- | --- |
| Brown Ale Style | Nut Brown Ale | Ale | 4.5 |
| | | | |
| --- | --- | --- | --- |
| Budweiser | Beechwood | Lager | 4.5 |
| | | | |
| --- | --- | --- | --- |
| Canadian Style Lager | Canadian Lager 1 | Lager | 5 |
| | | | |
| --- | --- | --- | --- |
| Cantebury | Canadian Specialty 9 | Ale | 5 |
| | | | |
| --- | --- | --- | --- |
| Carlsberg | Danish Premium Lager | Lager | 5 |
| | | | |
| --- | --- | --- | --- |
| Carlsberg Light | Danish Premium Light | Lager | 4 |
| | | | |
| --- | --- | --- | --- |
| Champlain Porter | Creamy Porter | Porter | 4.9 |
| | | | |
| --- | --- | --- | --- |
| Chimay Blue | Dubbel Trubbel | Ale | 9.2 |
| | | | |
| --- | --- | --- | --- |
| Ching Hua Beer | Chinese Light | Lager | 3.7 |
| | | | |
| --- | --- | --- | --- |
| Conner's Bitter | Canadian Specialty 5 | Ale | 5 |
| | | | |
| --- | --- | --- | --- |
| Conner's Lager | Canadian Specialty 4 | Lager | 5 |
| | | | |
| --- | --- | --- | --- |
| Coors Banquet | Zack's Banquet | Lager | 4.5 |
| | | | |
| --- | --- | --- | --- |
| Coors Light | Zack's Lager | Lager | 4.8 |
| | | | |
| --- | --- | --- | --- |
| Cream Ale | Cream Ale | Ale | 5 |
| | | | |
| --- | --- | --- | --- |
| Creemore | Baster Lager | Lager | 5 |
| | | | |
| --- | --- | --- | --- |
| Czech Pilsner (Pilsner Urquell) | Original Pilzen | Pilsner | 4.7 |
| | | | |
| --- | --- | --- | --- |
| Czech Pilsner Urquell Export | Czech Pils | Pilsner | 4.7 |
| | | | |
| --- | --- | --- | --- |
| Dos Equies Dark | M.S. Dos (Dark) | Lager | 5.5 |
| | | | |
| --- | --- | --- | --- |
| Dos Equies Lite | M.S. Dos (Light) | Lager | 5.5 |
| | | | |
| --- | --- | --- | --- |
| Double Diamond | The Prince's Tipple | Ale | 5.5 |
| | | | |
| --- | --- | --- | --- |
| Dry Stout | Blackfly Stout | Stout | 4.9 |
| | | | |
| --- | --- | --- | --- |
| Dubbel | Belgian Dubbel | Ale | 6.8 |
| | | | |
| --- | --- | --- | --- |
| Duvel | Belgian Tripple | Tripel | 8.2 |
| | | | |
| --- | --- | --- | --- |
| Earl's Rhino | Harry's Hippo | Ale | 4.5 |
| | | | |
| --- | --- | --- | --- |
| Elephant Beer | Danish Strong Lager | Lager | 7.2 |
| | | | |
| --- | --- | --- | --- |
| English Bitter Style (11) | Okanagan Bitter | Bitter | 5.7 |
| | | | |
| --- | --- | --- | --- |
| English Bitter Style (12) | Special Bitter | Bitter | 5 |
| | | | |
| --- | --- | --- | --- |
| English Bitter Style (21) | Pub Bitter | Bitter | 4 |
| | | | |
| --- | --- | --- | --- |
| English Bitter Style (79) | Extra Special Bitter | Bitter | 5.5 |
| | | | |
| --- | --- | --- | --- |
| Export Stout Style | Export Stout | Stout | 7 |
| | | | |
| --- | --- | --- | --- |
| Extra Old Stock | Olde Ale | Ale | 5.5 |
| | | | |
| --- | --- | --- | --- |
| Fat Tug | Slim Pull | IPA | 6.5 |
| | | | |
| --- | --- | --- | --- |
| Fisher d'Alsace | Alsatian Ale | Ale | 6.5 |
| | | | |
| --- | --- | --- | --- |
| Fosters | Aussie Lager | Lager | 4.5 |
| | | | |
| --- | --- | --- | --- |
| Gold Leaf Lager | Bright Sky Lager | Lager | 5.5 |
| | | | |
| --- | --- | --- | --- |
| Granville Island Pale Ale | Sinking City Pale Ale | Ale | 5.3 |
| | | | |
| --- | --- | --- | --- |
| Guinness | Irish Stout | Stout | 4.5 |
| | | | |
| --- | --- | --- | --- |
| Harp Lager | Sharp's Lager | Lager | 5 |
| | | | |
| --- | --- | --- | --- |
| Heineken | Oktoberfest Lager | Lager | 5.5 |
| | | | |
| --- | --- | --- | --- |
| Heineken Dark | Dutch Dark Lager | Lager | 5 |
| | | | |
| --- | --- | --- | --- |
| India Pale Ale | India Pale Ale | IPA | 5.7 |
| | | | |
| --- | --- | --- | --- |
| Kirin | Tokyo Gold | Lager | 4.5 |
| | | | |
| --- | --- | --- | --- |
| Kokanee Light | Kariboo Lite | Lager | 4 |
| | | | |
| --- | --- | --- | --- |
| Labatt's 50 | House Ale | Ale | 5 |
| | | | |
| --- | --- | --- | --- |
| Labatt's Blue | Blue Pilsner | Pilsner | 5 |
| | | | |
| --- | --- | --- | --- |
| Labatt's Classic | Slat's Special | Lager | 4.9 |
| | | | |
| --- | --- | --- | --- |
| Labatt's Dry | Dry Lager | Lager | 5 |
| | | | |
| --- | --- | --- | --- |
| Labatt's Genuine Draft | Genuine Brewmaster Draft | Lager | 5.5 |
| | | | |
| --- | --- | --- | --- |
| Labatt's Light | Canadian Light | Lager | 4.5 |
| | | | |
| --- | --- | --- | --- |
| Le Fin du Monde | The Final Countdown | Tripel | 8.1 |
| | | | |
| --- | --- | --- | --- |
| Lowenrau | German Lager 2 | Lager | 5 |
| | | | |
| --- | --- | --- | --- |
| Märzen Style | Märzen Lager | Lager | 5.2 |
| | | | |
| --- | --- | --- | --- |
| McEwan's Scotch Ale | Scotty's Scotch Ale | Ale | 7 |
| | | | |
| --- | --- | --- | --- |
| Mexican Lager | Toro Cerveza | Lager | 5.2 |
| | | | |
| --- | --- | --- | --- |
| Miller Chill | Sub Lime | Lager | 5.0 |
| | | | |
| --- | --- | --- | --- |
| Miller Lite | Mid-Lite | Lager | 4.8 |
| | | | |
| --- | --- | --- | --- |
| Molson Canadian | Canuck | Lager | 4.8 |
| | | | |
| --- | --- | --- | --- |
| Molson Export | Canadian Ale | Ale | 5.1 |
| | | | |
| --- | --- | --- | --- |
| Molson Golden | Guerk's Gold | Ale | 5 |
| | | | |
| --- | --- | --- | --- |
| Molson Special | Very Light | Lager | 3.4 |
| | | | |
| --- | --- | --- | --- |
| Molson's Dry | Super Dry | Lager | 4.7 |
| | | | |
| --- | --- | --- | --- |
| Moosehead | Bullwinkle | Lager | 5 |
| | | | |
| --- | --- | --- | --- |
| Munich Pale | Munich Helles | Lager | 5.1 |
| | | | |
| --- | --- | --- | --- |
| Nasty Habbit | Nasty Hobbit | Ale | 7.8 |
| | | | |
| --- | --- | --- | --- |
| Newcastle Brown | Newcastle's Finest | Ale | 5 |
| | | | |
| --- | --- | --- | --- |
| Newcastle Brown Ale | Brown Ale | Ale | 5 |
| | | | |
| --- | --- | --- | --- |
| O.V. (Old Vienna - Molson) | Old Victoria | Lager | 4.6 |
| | | | |
| --- | --- | --- | --- |
| Okanagan Springs Pale Ale | Pale Ale Premium | Ale | 5.5 |
| | | | |
| --- | --- | --- | --- |
| Okanagan Springs Pale Ale (with honey) | Honey Pale Ale | Ale | 5.5 |
| | | | |
| --- | --- | --- | --- |
| Okanagan Springs Pilsner | O.K. Pill | Pilsner | 4.8 |
| | | | |
| --- | --- | --- | --- |
| Old Milwaukee | Pilsner Light | Pilsner | 4.2 |
| | | | |
| --- | --- | --- | --- |
| Old Style Pilsner | Canadian Pilsner | Pilsner | 5 |
| | | | |
| --- | --- | --- | --- |
| Paulaner Munchner Hell | Original Munchner | Lager | 4.8 |
| | | | |
| --- | --- | --- | --- |
| Pilsner Urquel | Prague Pilsner | Pilsner | 4.8 |
| | | | |
| --- | --- | --- | --- |
| Radler | Grapefruit Radler | Radler | 2.5 |
| | | | |
| --- | --- | --- | --- |
| Red Racer | Red Race Car | IPA | 6.6 |
| | | | |
| --- | --- | --- | --- |
| Red Stripe | Caribbean Lager | Lager | 4.6 |
| | | | |
| --- | --- | --- | --- |
| Red Truck IPA | Lil' Red Pick Up | IPA | 6.5 |
| | | | |
| --- | --- | --- | --- |
| Rickard's Dark | Rex's Dark | Ale | 5 |
| | | | |
| --- | --- | --- | --- |
| Rickard's Red | Rex's Red | Lager | 5 |
| | | | |
| --- | --- | --- | --- |
| Russian Imperial Stout | Boris Bradinov Stout | Stout | 8.5 |
| | | | |
| --- | --- | --- | --- |
| Russian Pilsner | Baltika | Pilsner | 5.4 |
| | | | |
| --- | --- | --- | --- |
| Sapporo Lager | Japanese Lager | Lager | 5 |
| | | | |
| --- | --- | --- | --- |
| Schwarzbier Style | Schwartzbier | Lager | 4.5 |
| | | | |
| --- | --- | --- | --- |
| Scottish Ale | Scottish Export | Ale | 4.6 |
| | | | |
| --- | --- | --- | --- |
| Scottish Ale | Scottish Heavy | Ale | 4 |
| | | | |
| --- | --- | --- | --- |
| Shaftebury Cream | Canadian Specialty 8 | Ale | 5 |
| | | | |
| --- | --- | --- | --- |
| Singha | Thai Pilsner | Pilsner | 4.7 |
| | | | |
| --- | --- | --- | --- |
| Sleeman's Cream Ale | Premium Cream Ale | Ale | 5.2 |
| | | | |
| --- | --- | --- | --- |
| Sleeman's Lager | Canadian Specialty 1 | Lager | 5 |
| | | | |
| --- | --- | --- | --- |
| Smithwick's | Sticky Wicket | Ale | 5.5 |
| | | | |
| --- | --- | --- | --- |
| Staropramen | Prague Spring Pilsner | Pilsner | 4.8 |
| | | | |
| --- | --- | --- | --- |
| Steinlager | Kiwi Lager | Lager | 5 |
| | | | |
| --- | --- | --- | --- |
| Stella Artois | Belgian Lager | Lager | 5.2 |
| | | | |
| --- | --- | --- | --- |
| Stroh's | American Lager 3 | Lager | 4.5 |
| | | | |
| --- | --- | --- | --- |
| Strong Ale | English Strong Ale | Ale | 6.7 |
| | | | |
| --- | --- | --- | --- |
| Strong Ale | Scotch Ale | Ale | 8.7 |
| | | | |
| --- | --- | --- | --- |
| Sweet Stout | Sweet Stout | Stout | 5 |
| | | | |
| --- | --- | --- | --- |
| Switchback IPA | Switchblade IPA | IPA | 6 |
| | | | |
| --- | --- | --- | --- |
| Tennent's Lager | Scottish Lager | Lager | 5 |
| | | | |
| --- | --- | --- | --- |
| Tiger Lager | Malayan Pilsner | Pilsner | 5.1 |
| | | | |
| --- | --- | --- | --- |
| Toby | English Ale 2 | Ale | 5.5 |
| | | | |
| --- | --- | --- | --- |
| Trappisteiner | Monk Beer | Trappist | 11 |
| | | | |
| --- | --- | --- | --- |
| Tsing Tao | Pavilion Pier | Lager | 4.4 |
| | | | |
| --- | --- | --- | --- |
| Tuborg | Danish Pilsner | Pilsner | 5 |
| | | | |
| --- | --- | --- | --- |
| Twisted Tea | Tilted Tea | Hard Iced Tea | 4.5 |
| | | | |
| --- | --- | --- | --- |
| Upper Canada Dark | Canadian Specialty 6 | Ale | 5 |
| | | | |
| --- | --- | --- | --- |
| Vancouver Island Lager | Canucklehead | Ale | 5.3 |
| | | | |
| --- | --- | --- | --- |
| Whistler Grapefruit Ale | BA Grapefruit Ale | Ale | 4.8 |
(Empty cans/bottles - cost additional to batch price
or you are welcome to bring your own from home)
355ml cans:
$0.25 Each - 135 per batch
$30 full batch
355ml Glass Bottles:
$0.85 Each- 135 bottles
$115 full batch approx
500ml plastic Bottles:
$0.85 Each- 96 bottles
$82 full batch approx
1l plastic Bottles:
$1.50 Each- 48 bottles
$72 full batch approx
(Full batch prices noted as 'approximate' as we guarantee the quantities above but in some instances the batch may yield a little more)